Published in The Islands Grapevine, July 16, 2020, Written by  Trish Weatherall
20 years after realizing her dream, Shirley Phillips of Lilac Sun Pottery talks about how Denman Island nature inspires her art, her legendary local pottery mentors, how the pandemic affected her, gift ideas and what's new in the studio as she re-opens. 
How many times have you passed that bright green Lilac Sun Pottery sign on the Denman West ferry hill and thought you might stop by one of these days?
For 20 years, Denman Island potter Shirley Phillips has welcomed pottery lovers to her studio overlooking Baynes Sound – until the pandemic hit and she closed the doors for almost 3 months. The Denman Craft Shop, where some of her work is sold, also closed. The April wood firing at Denman potter Gordon Hutchens' outdoor Anagama kiln (she has 50 pots boxed up for a future firing) was canceled. Then the May long weekend Denman Island Pottery Studio Tour. And the August Denman Island Studio Tour. Future events, like the Christmas Craft Fair, are as yet undetermined.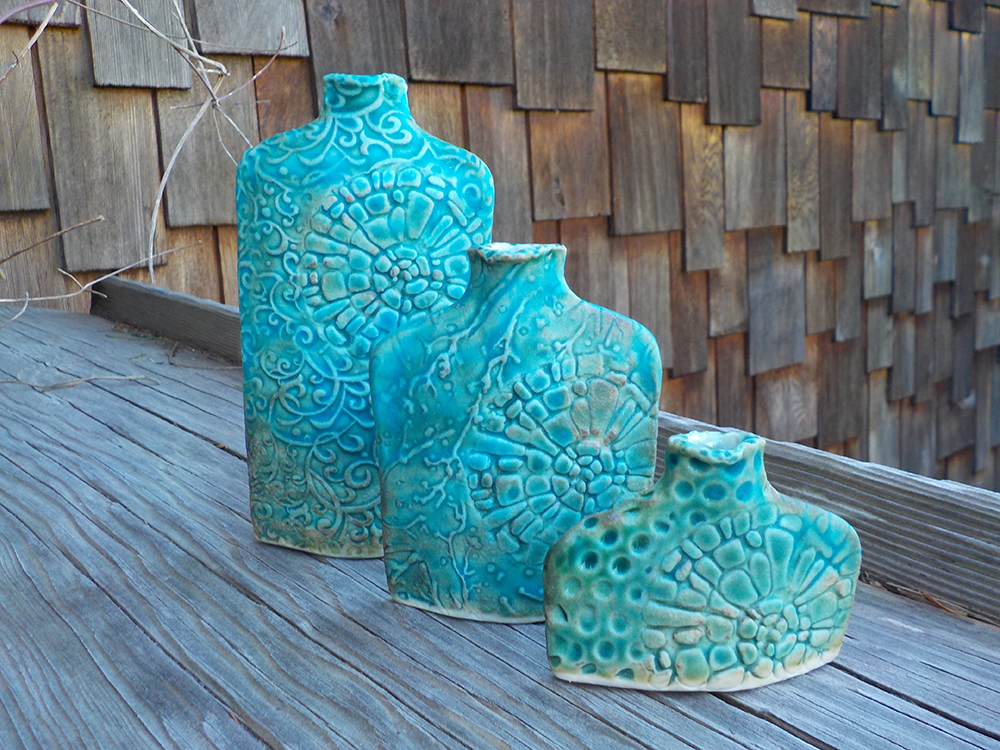 The Silver Lining
Still, Shirley found a silver lining in her newfound free time. "I got to slow down for awhile. It was a nice change to not have looming art show deadlines. I made a torso and two masks – something I haven't done for a couple of years! I'm always exploring new textures and techniques. I also spent a lot more time in the garden, which is wonderful."
Her garden, along with Denman seashore and forests, inspire the textures in her art. Each one-of-a-kind piece is intricately decorated with patterns inspired by nature, and in many cases are literal impressions of leaves, seed pods or seashells. "I like organic shapes."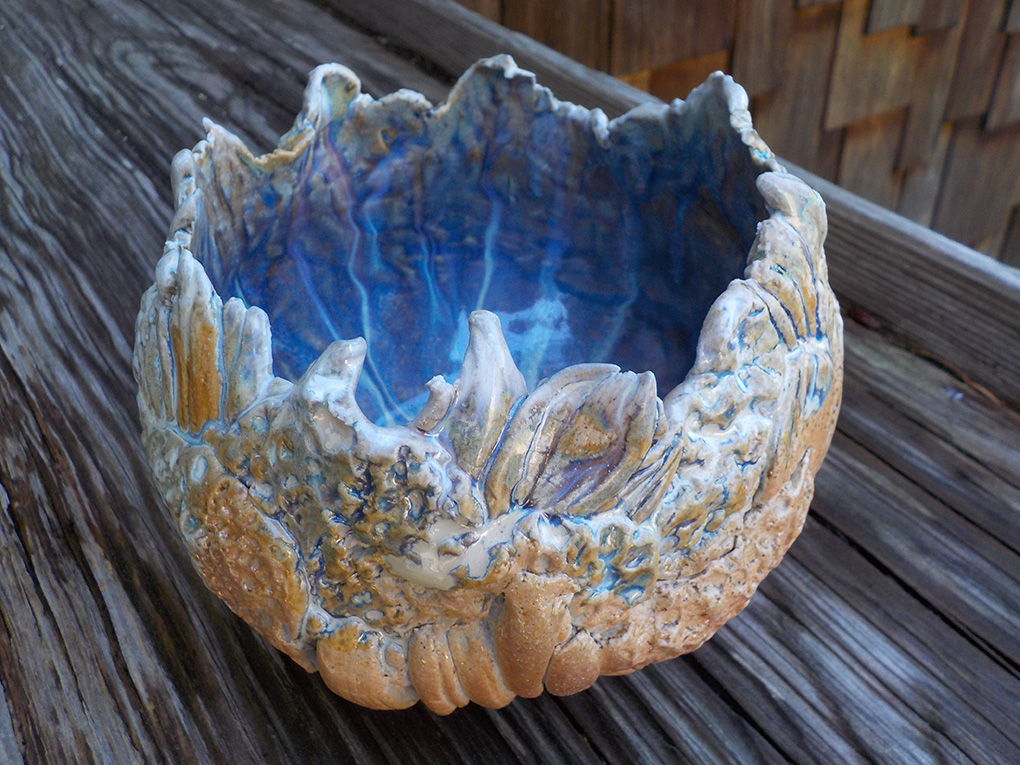 Gifts inspired by nature
Now, having reopened June 1st, with hand sanitizer and social distancing signage at the door, she invites people to safely browse her studio.
Perfect for gift-giving and shipping, Lilac Sun pottery has a wide range of affordable gift items (from $5  and up). There are tiny vases and flower bricks, spoon rests, soap dishes, ring holders, fridge magnet vases, business card holders, heart shaped bowls and jewelry, and 'what-not' dishes for tea bags, rings or special treasures – some with infused beach glass. You'll find these smaller items at craft shows and in her studio, but she also creates larger bowls, vases, masks and torsos, which can be seen in her studio.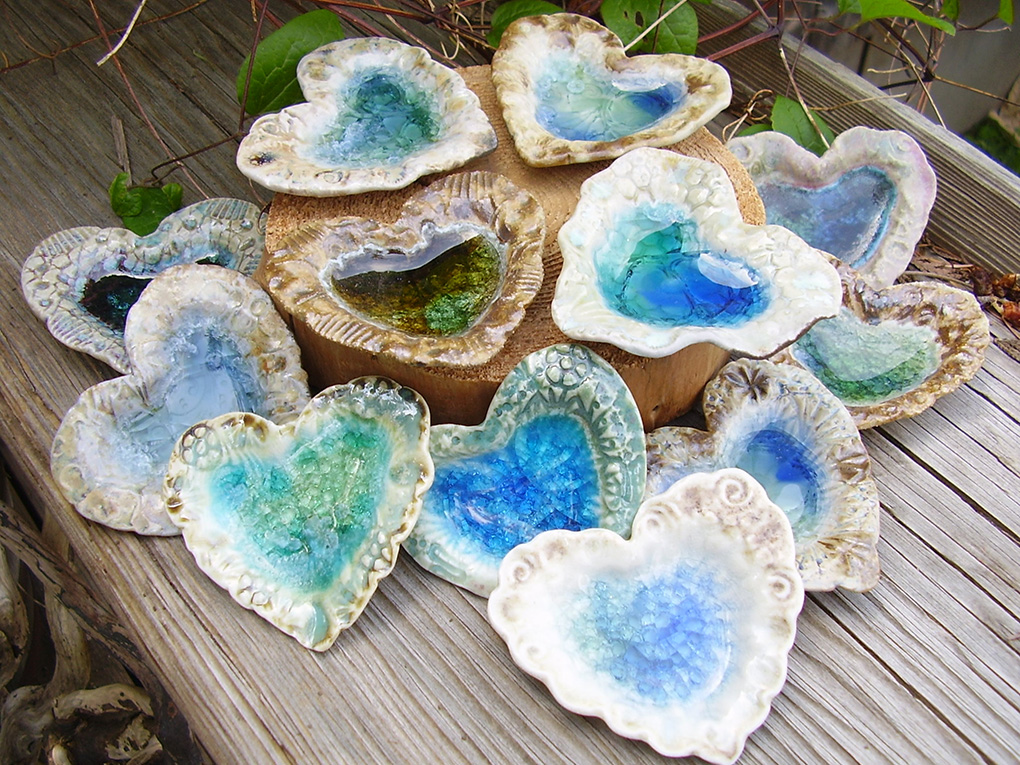 Building a dream
Shirley's background includes a 2-year Leisure Studies program at the former Malaspina College, where she studied everything from facility design to recreation leadership to crafts and sports. A ceramics class piqued her interest and she took one class.
"That's when I went, ooooh, I really like this!"
She came to Denman Island from Prince Rupert with her husband, Del, in 1988 when a great deal on the waterfront property came up next door to Del's parents.
"I felt very comfortable here, it felt like home," she says. "After 31 years its the best move we've ever made. We chose lifestyle – which is everything."
While she and Del raised their children here, she worked part-time jobs, from babysitting to landscape gardening to office work and delivering the mail. She also worked for and learned from some of Denman's legendary potters: Gordon Hutchens, Bentley LeBaron and (former resident) Janet Moe.
"I had three children, so I wasn't ready to be a full-time potter, but I wanted to keep my hand in the learning."
She attended a few pottery workshops over the years, but is mainly self-taught through practice and experimentation.
She realized her dream when she opened Lilac Sun Pottery Studio in 2000, though she can't remember which month – it is a 20th anniversary year! It's only been the past two years that she hasn't held other part-time jobs.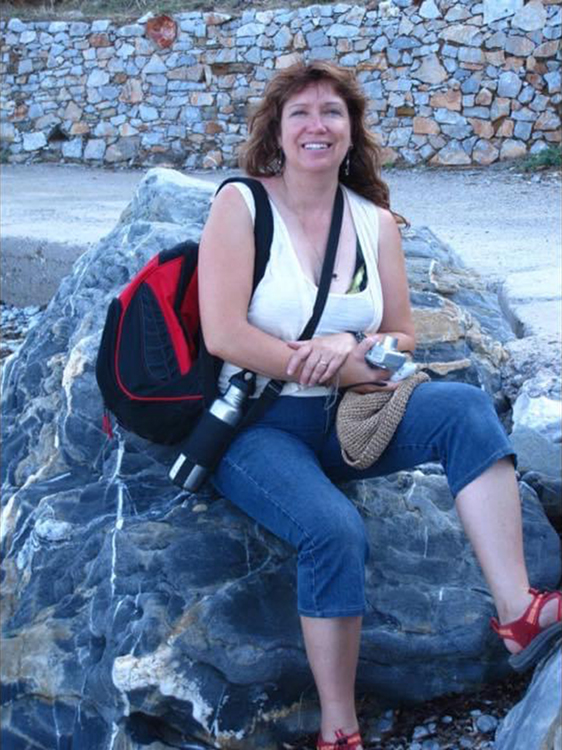 Why Lilac Sun?
When she first started selling her pottery, she had read that people might not remember your name but they might remember a symbol. So, she started imprinting a sun logo on her work. Then one day she came across a song called Lilac Sun. "It just felt right! I have lilacs by my studio and I was already using the sun symbol."
She's happy to be open again, and though visitors are trickling in, she invites locals to visit. "Even if you've been before, my work is constantly changing. Plus, I like to see your smiley faces!"
She knows word of mouth is the best advertiser, so she truly appreciates anyone who takes the time to stop by to see her work.
More ways to see Lilac Sun Pottery
Another great way to support local artists is by following and sharing their social media pages. @LilacSunPottery is on both Facebook and Instagram.
She also has gift certificates at the studio, as well as digital gift certificates to purchase online through the new Islands Comeback program.
(A great link to share with your family and friends a few weeks before your birthday!)
The next time you're in Denman Village or waiting for a ferry, it's a quick stroll to Lilac Sun Pottery at 3311 Denman Road, 9 a.m. to 6 p.m. daily or as posted. The Studio is before the house on the left, and the door is usually open. Press the doorbell to let Shirley know you're there – she may be in the house, or in the garden getting inspiration!